PROJECT SUMMARY
Virtual Forests

The Covid-19 pandemic is pushing European society to transformative changes in technologic, economical and social dimensions. Information and Communication Technologies (ICTs) have been crucial for Higher Education Institutions, teachers and learners during the first covid19 wave. However, the forest sector is generally considered as late adopters in new ICTs due to several reasons, including that the economic profitability of the sector is very low and online connectivity in the forests is poor. Both lead to a situation where the incentives for the actors (learners, teachers, ICT services providers...) to develop ICT adapted services for the sector are low. However, the role of forest ecosystems and their management for green development is crucial.
By fostering forest education, we are fostering different important objectives of the European Union

Enhancing online, distance and blended learning in the forest sector
Promoting a rapid socioeconomic recovery with special emphasis on a more resilient rural job market by introducing cutting-edge technology in forest education and, in the long-term
Facilitating the transformation of the EU into a fair and prosperous society with a modern, resource-efficient and competitive economy.
The specific project objectives are to strengthen cooperation and networking between partners and other relevant organizations and stakeholders, Promote the development, testing, and implementation of innovative open educational resources and learning practices, Support education and training of professionals at different levels and career development stages to promote equity, diversity, and inclusion in learning, and increase the international visibility and reputation of participating HEIs while simultaneously expanding international student access to open educational resources in a sector under-represented among online studies.
#virtualForests #education #outputs #project
12/01/2022 - Valladolid, Spain

Tree monitoring Spain

Broadcast: https://www.youtube.com/watch?v=DgrWQZPuCik

This event will allow to know closely a plantation located in the city of Valladolid. This urban forest is monitored through different sensors that collect and combine information about the plants and the weather and soil conditions, and offer solutions for resource management in the face of climate change.

05/2022 - Nancy, France

Citizens in forestry France

Seminar to be held in Nancy (France) with the main objective of citizen participation, i.e. to involve citizens in forestry and natural resource management and in the search for solutions to the green challenge and climate change.
10/2022 - Eberswalde, Germany

3D mapping and spatial analysis of forest stands Germany

This multiplying event will bring students and professionals closer to the possibilities offered by virtual visits to forests in marteloscopes and 3D maps of stands both in forestry and in forestry education itself.

09/2022 - Hanoi, VietNam

International seminar on Forest Virtualization VietNam

A mixed international seminar open to professional, research and academic networks, which aims to disseminate the intellectual outputs of the project and increase the international visibility of VirtualForests' results.
On 12 January, the multiplier event "Internet of Trees" of the Erasmus + project Virtual Forests took place in a hybrid format in Valladolid (Spain) and online, organised by Cesefor and in collaboration with the University of Valladolid and Iufor (Sustainable Forest Management Research Institute UVa-INIA). The event focused on topics such as sensors for climate and soil data collection, data management and analysis and techniques for reforestation of degraded urban areas.

This event was attended by a hundred participants interested in urban and sensorial green infrastructure, of which 40 attended in person coming from 8 different universities, the Castilla y León forestry association (FACYLE) and entrepreneurial sector. The participants who connected remotely came from different profiles of the forestry and digitization sectors.

The event featured speakers from different initiatives such as Fernando Bezares and Rodrigo Gómez (Cesefor) and Rafa Rivera (Quantizae) who introduced sensorisation networks in forest plantations management and specific application in experimental plantations, plantations in degraded urban areas and in productive forest plantations, as well as, tools for managing the influx of visitors in protected areas.

The expectation presented by this event showed that there is a huge interest on the digitization of the sector and the possibilities within the forestry and environmental sector towards the use of sensors and data analysis techniques based on artificial intelligence, especially for the optimization of natural resources and their management. But also, the importance of strengthening cooperation, networking between universities and companies, and generating tools that combine learning, innovation and employability.

The specific objective of the multiplier event "Internet of Trees" was to outline and define the bases and contents of the toolkit that is being developed in the Intellectual Output of Virtual Forests "Internet of Trees - A sensorized forest plantation as an educational product", including the participation and comments provided by the participants.

This Intellectual Output aims to provide a toolkit to sensorise a forest plantation or individual trees, which will be disseminated as educational material for university professors, students, forest owners and managers.

As a result of the day, it is worth highlighting the network generated around the sensorisation networks in forest plantations as for individual trees, as well as other applications in the natural environment. For this reason, and as a contribution derived from the event, an active search for the use of sensors in the natural environment will be incorporated into the Toolkit as well as a methodological guide for the installation and the analysis of data recorded remotely in the field through sensors and its usefulness for decision-making, especially in plantation management.

 

The replay of the event is available here:  https://www.youtube.com/watch?v=DgrWQZPuCik&feature=youtu.be

The multiplier event "Internet of Trees" will take place on 12 January around a smart urban forest plantation, located in an industrial area of Valladolid.

Sensors for climate and soil data collection, data management and analysis and techniques for reforestation of degraded urban areas will be some of the topics of the event.

Valladolid,  12th January 2022

AGENDA

9:30h - 10h Introduction to sensorization networks in forest plantations management. Fernando Bezares, Cesefor

10h -11h Forest management IoT case studies (chestnuts plantations, resin production, protected areas access control) Fernando Bezares & Rodrigo Gómez, Cesefor

11h - 11:30h Coffee break

11:30h - 13h The QUF project: how sensorization can help to manage a non-irrigated urban forest plantation. Rafael Rivera, Quanticae

13h - 15h Lunch

15h - 17h  Visit to the QUF urban forest plantation

Location: Salón de Actos. Edificio PCUVa- Campus Miguel Delibes. 
Pº de Belén 9A. 47011 Valladolid, Spain. 

Also connection via Zoom will be available. The event will be held in English

Free access, under registration here 

Please indicate whether you will attend physically or virtually.

 

ONLINE EVENT

Please open the YouTube chat for questions

We launch the #VirtualForest on Twitter, follow us on @UVaPalencia @ETSIIAAPalencia @YoungForesters @FCesefor @IEFCPlantForest @APT_Nancy @hneeberswalde

The project "Virtualization of Forest Studies - VirtualForests", under the Erasmus+ program, Key Action 2: Strategic Partnerships, aims to develop and share innovative digital-based educational tools, platforms, teaching methods and frameworks in forest ecosystem studies. 

The project is coordinated by the University of Valladolid and involves the Cesefor Foundation (Spain), Hanoi University of Science, Vietnam National University Hanoi (Vietnam), Eberswalde University for Sustainable Development (Germany), Institut Européen de la Forêt Cultivée (France) and Institut National des Sciences et Industries du Vivant et de L'environnement - AGROPARISTECH (France).

VirtualForests will contribute to improve the teaching of forest ecosystem studies by developing open educational resources and innovative learning practices to adapt teaching to situations such as those experienced with the COVID 19 pandemic. In addition, cooperation and networking between the partners and other relevant organizations and stakeholders will be strengthened. Education and training is targeted for students and professionals at different levels and stages of professional development to promote equity, diversity and inclusion in learning.
CONTACT
Contact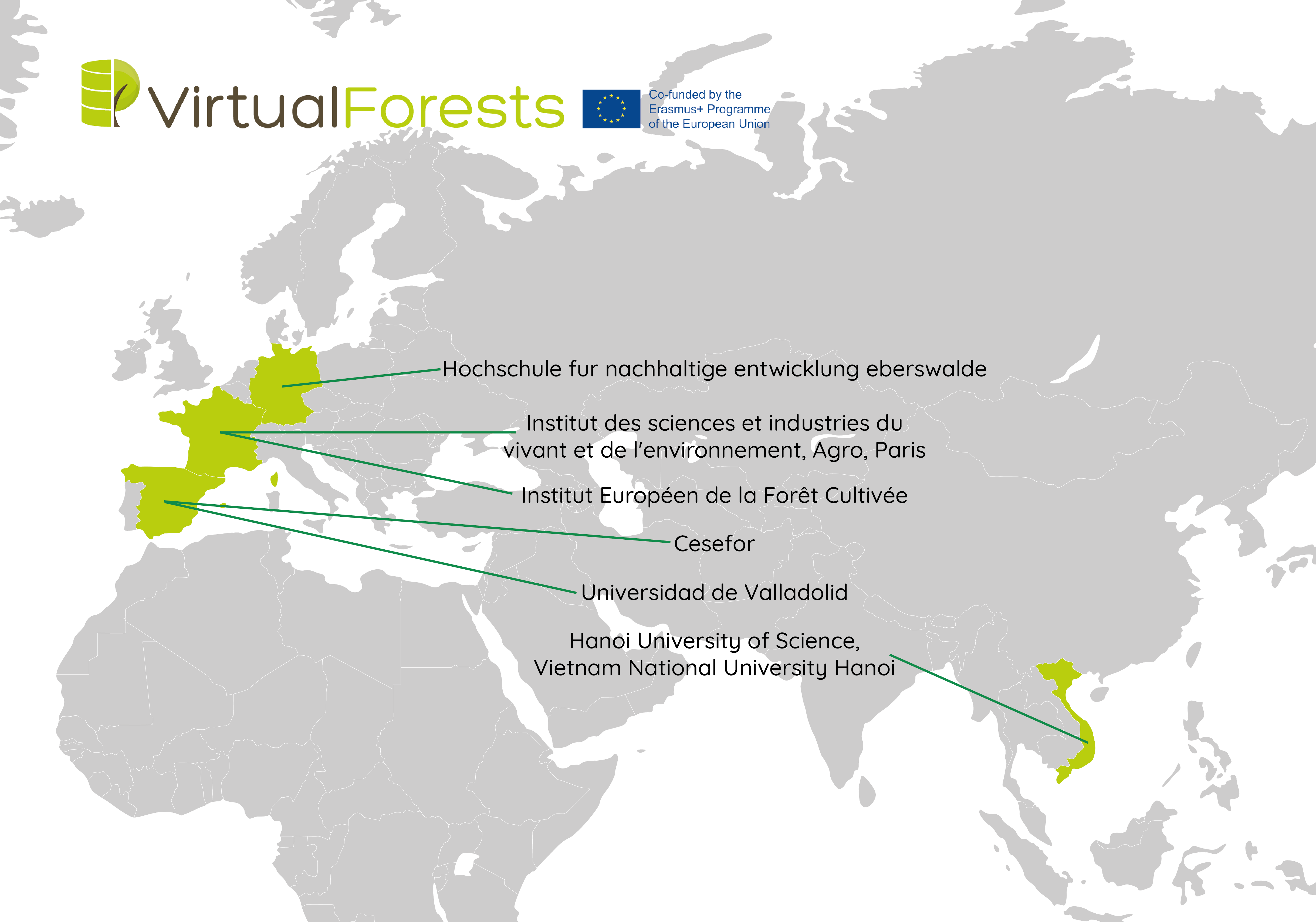 Email

info@virtualforests.eu